Has your company ...
Deployed a field action due to a failed component?

Initiated a recall due to a supplier issue?

Launched a corrective action due to medical device mislabeling?
Novasyte has more than a decade of experience partnering with many of the largest device, diagnostic and drug manufacturers, helping them respond to all levels of regulated field actions including FDA-mandated recalls. Learn more about our S.M.A.R.T. technology by watching this quick video.
Our cloud-based S.M.A.R.T. Response Program is an integrated, software and service-based solution that provides comprehensive management and real-time activity tracking, allowing our clients to quickly and accurately execute regulated field actions without overburdening their internal teams.
Results have included achieving FDA compliance in an average of 10 weeks and proving effectiveness with clean and accurate data to support their request for closure - resulting in the FDA approving termination in as quickly as 5 days.
Our dedicated S.M.A.R.T. team manages every step of your field action and delivers reporting in real-time, ensuring traceability, accuracy and speed.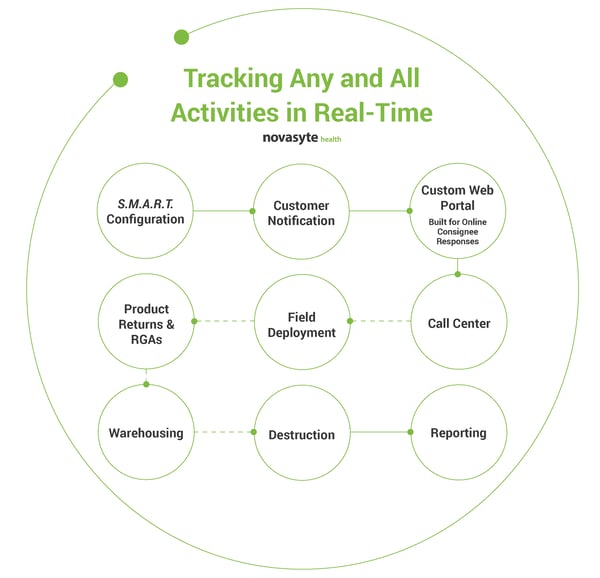 Key Benefits:
Flexibility - Closed-loop management support with the flexibility to scale up and down as needed
Bandwidth - Maximize your team's bandwidth while we serve as an extension of your team
Real-time Data and Activity Tracking - Receive real-time, data analytics to maximize program success
Strategic Implementation

- Customize the strategic implementation plan to meet your program goals

On-Site Remediation and Retrievals - Tracked on a per-unit basis and handled by our highly-skilled technicians
Powered by People and Technology
Novasyte builds, deploys and manages all field teams with quality management standards that are ISO 9001:2015 certified - allowing us to deliver consistent results and continually improve satisfaction for

you and your customers.
Once a customized plan is developed, our highly-skilled S.M.A.R.T. response experts are quickly mobilized to manage the action with speed and accuracy.
We measure and track the progress and associated spend in our proprietary Novasyte LYNC platform. This provides real-time visibility into every activity tracked and every dollar spent on Novasyte services so you can stay informed and evaluate where and when support is needed.
Our proprietary, Novasyte LYNC platform tracks every consignee activity, including:
KPI measurement (e.g. expense-to-service ratios)
Affected product tracking and product return per

unique serial number

Field-based activities and spend by account, region, product, supervisor, task and unit
Recall notification and delivery status
Consignee acknowledgment status
First pass yield tracking
Recall status reports
Contact us for a personalized demo from our team of recall experts today!