Limited internal capacity, spikes in demand, and a high sense of urgency make managing medical device upgrades, preventative maintenance and repair support increasingly difficult.
With Novasyte's Field Technical Program, you will have access to our national network of the highest-quality field teams. With extensive experience on products of varying complexity, we are ready to scale up quickly and service any of your technical product needs. After building, deploying and managing our custom, dedicated field teams, we measure and track the progress and associated spend.
Key Benefits:
Increase flexibility to scale up and down with your customer-facing needs
Maximize your team's bandwidth

while we serve as an extension of your team
Drive faster revenue recognition

by expediting the field service timeline

Minimize the SG&A costs

associated with having a full-time employee
ISO 9001:2015 Quality Management System driving best-in-class processes and repeatable outcomes
Receive

real-time, data analytics

to maximize program success
Gain access to our network of

2,200 quality consultants

across the U.S. and Canada to build a custom, dedicated team that meets your exact needs
Powered by People and Technology
Novasyte builds, deploys and manages all field teams with quality management standards that are ISO 9001:2015 certified - allowing us to deliver consistent results and continually improve satisfaction for you and your customers.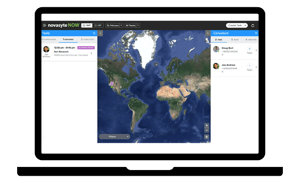 After expediting the scheduling process on our Novasyte NOW platform, we measure and track the progress and associated spend in our proprietary Novasyte LYNC platform. This provides real-time visibility into every activity tracked and every dollar spent on Novasyte services so you can stay informed and evaluate where and when support is needed.
Our interactive and customizable dashboards report:
KPI measurement (e.g. expense-to-service ratios)
Regional and facility-based activities performed by consultants
Detailed spend analysis by account, region, product and supervisor
Spend-to-budget and ROI tracking on Novasyte's field technical services
Retirement Cliff Puts Field Service Operations At Risk
The medtech industry is facing an aging workforce crisis among field service engineers.
As this talent shortage approaches, medical device and diagnostic manufacturers are forced to explore and implement the following options:
Automate, optimize and streamline field service productivity with new technologies

Adapt existing recruitment and development plans to hire and train new talent

Outsource the field service arm of the business to a trusted, third-party provider
Read our latest industry trend to learn the actions medtech leaders are taking and the realities they are facing in response to this looming issue.